4 Ways You Can Care for Florida Seniors During National Elder Law Month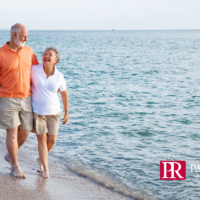 Did you know that May is National Elder Law Month? This month-long celebration focuses on our aging Florida seniors and any help they may need. During the month, in addition to an increased awareness of the needs of our senior population, communities across the nation and adult family members are encouraged to get involved. How can you help the senior loved ones in your life? In our blog, we would like to share four ways you can help.
1. Do your aging loved ones have enough to eat?
Offer to do the grocery shopping and meal planning for your senior loved ones. This will relieve the stress for senior loved ones with mobility issues, and provide nutritious food choices. In addition, preparing easy-access finger-foods and pre-cooked multi-serving dishes can be helpful, and providing plastic cups, plates and straws can reduce clean-up.
2. Is dressing difficult for your aging loved ones?
Adult children and family caregivers can help aging parents by regularly doing their laundry. It may also be important to lay out loose-fitting, comfortable clothes. Help your loved ones by buying comfortable shoes and clothes with Velcro and large zippers.
3. Are your loved ones taking care of their teeth?
If your loved ones do not remember to take care of their teeth, there could be painful health issues. Remind your elder loved ones to rinse their teeth after every meal, and also help them brush their teeth or keep their dentures clean if they need assistance. Be sure to consult a dentist for more specific advice.
4. Have your loved ones completed any legal planning?
As we age, legal planning becomes even more important. Do your loved ones have the estate planning and elder law planning they need? If they do not, do you know how to help them start? Do you have questions? We work with Florida seniors and their loved ones every day to answer these important questions.
When your family or financial health is on the line, trust attorney Paul Riffel to help you protect your interests and achieve your goals. Attorney Paul Riffel has been practicing law in Florida for over 39 years, focusing in the areas of Tampa estate planning and family law. We encourage you to contact us and schedule a meeting with us.