Going Out of Town? The Estate Planning Checklist You Need to Review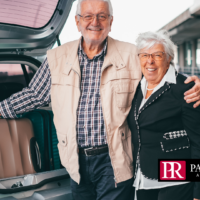 Do you have travel plans for the summer? Are you hoping to spend time with family and friends and enjoy time outdoors? Are you traveling to another state or out of the country? Now that the pandemic has lessened in its impact, the travel choices seem endless. 
As you plan your summer vacation, are you traveling with your minor children or grandchildren on a trip? Or are you in need of an adventure, or just getting a change of scenery or traveling to an exotic place with your loved ones?  As you begin to plan your summer travel there is a lot to consider, but have you included your Florida estate planning on your action list? It may not have crossed your mind initially, but it should be on your action list as you begin to prepare. Below, we want to share a Florida estate planning checklist for you to review before your summer adventure begins. With our suggestions you will be able to travel with peace of mind.
Be sure to have the person with the legal authority to do so, pick up your mail. Did you know that your neighbors and friends do not have the legal authority to pick up your mail while you are on your summer vacation?  But, under your Florida durable power of attorney, your agent would have the authority to get your mail if you were out of town.
Be sure to make plans to have access to money, cash, and your bank accounts while you are out of town. What should you do if you need money while you are on vacation?  Or you need to make bank transfers? Or you need to act on a business transaction or sell a piece of property? As stated above, your agent, under your Florida durable power of attorney, can be given the legal authority to handle these transactions on your behalf, and even work with your experienced Florida estate planning attorney to make sure it is handled correctly.
Be sure that health care decisions can be made for you if you are unable. Who would make your healthcare decisions if you were injured, unconscious, or seriously harmed to the point where you were incapacitated and not able to make decisions for yourself? Your healthcare planning in your Florida advanced directives will enable you to identify not only a primary person to act in your place, but alternative choices in the event they are unable to act. 
Be sure to have plans for the care of your minor children and your pets. If your children and pets are not accompanying you on your vacation you need to decide who will have the legal authority to care for your minor children and your pets. Make this important decision as soon as possible, definitely before your vacation. In addition, you will need to decide if this is temporary care or if this person could be a legal custodian should something serious happen to you.
Be sure to invest in travel insurance. Did you know that most summer travel has the opportunity to be covered by travel insurance? That being said, the travel insurance company is not going to speak with someone who does not have legal authority to act on your behalf. Your Florida advanced directives will be a significant help should your travel insurance policy need to be activated by someone other than yourself.
Before going out of town on vacation, be sure to have a plan in place for an emergency. While traveling, if something serious happens to you, your Florida estate plan will hold all the details of what to do. With the guidance of your experienced Florida estate planning attorney, your agent and your personal representative can work with your attorney to make sure your goals for your person and your legacy are met.
We know this blog raises more questions than it answers. In closing, be sure to ask your experienced Florida estate planning attorney what estate planning documents to bring with you on your summer vacation. 
When your family or financial health is on the line, trust attorney Paul Riffel to help you protect your interests and achieve your goals. Attorney Paul Riffel has been practicing law in Florida for over 41 years, focusing in the areas of Tampa estate planning and  family law. We encourage you to contact us and schedule a meeting with us.