Reasons Why Estate Planning for Digital Assets is Important in the New Year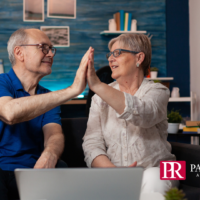 This month are you beginning to work on accomplishing your 2022 New Year's resolutions?  Did you include understanding how to protect your digital assets, which is currently a hot topic?  Data security is in the headlines and digital privacy is on the mind of many Floridians.  January is a good time to research how to ensure that your digital assets are secure now and in the future, including after you pass on. 
Have you included  your digital assets in the  Florida estate plan you created or recently updated?  Make it a priority to do so.  When you create or update your Florida estate plan you can secure your digital assets and make plans for their future. We want to share some  guidelines that may help you understand how to include digital assets in your estate plan while, in the meantime, keeping them secure.
Most digital assets are protected by passwords.  Therefore, one of the most critical strategies you need to develop is the protecting and preserving of your passwords.  This is a critical step in addressing the security of your digital assets.  Do you find it hard to keep track of all of your different passwords you use to access your different accounts?  To help you keep track of your passwords have you stored them on your computer or cell phone?  Unfortunately, this may not be the most secure of practices. Instead, keep track of your passwords by making a written list and keeping it in a locked desk drawer or safe deposit box. It should be somewhere you can access frequently, whenever you need to make updates to the list. Your passwords should not be easily guessed, and it is advisable to change them frequently, even if only once per year. It is also important to check in to ensure your passwords have not been compromised. If they have, update them immediately!  
When you create or update your Florida estate plan be sure to include your digital assets.  What exactly are your digital assets?  They could be financial, like a digital PayPal, Venmo, or bitcoin account.  They could also be sentimental, like a collection of photographs or videos of your children and grandchildren. Whatever your digital assets are, someone needs to be able to access your digital assets after you pass away. You may want to consider selecting a "password person" who can be trusted with your digital password information.  In addition, you need to keep him or her informed of where you keep your password list so it can be accessed when needed. In your will, you may also wish to detail who should have access to your digital assets or leave your personal representative instructions with respect to your passwords. 
We know this article may raise more questions than it answers. Then your family or financial health is on the line, trust attorney Paul Riffel to help you protect your interests and achieve your goals. Attorney Paul Riffel has been practicing law in Florida for over 40 years, focusing in the areas of Tampa estate planning and  family law. We encourage you to contact us and schedule a meeting with us.