Why Estate Planning Awareness Week Matters More than Ever During COVID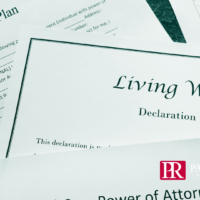 Did you know that October 16, 2020, marks the beginning of National Estate Planning Awareness Week? It is a week to highlight the importance of estate planning and its benefits for our economic future and health care decision-making. COVID-19 has brought many things to the forefront of our attention. Of those we should prioritize the most, estate planning is one of the top issues. This disease has infected over 7 million Americans and claimed over 200,000 American lives. It has been the worst pandemic to hit the world in one hundred years.  Due to the virus's ability to so easily spread and with many of the infected people being asymptomatic, the disease is having far reaching impacts on many aspects of our lives and relationships. 
The Center for Disease Control (CDC) reports numbers of patients by age, and the statistics clearly show that people over age 45 are more likely to succumb to this deadly infection.  The message behind the statistics may be that people with children and assets, who are likely victims of this virus, should seriously consider estate planning.  The United States has lost a whopping 34.6% of GDP in Q2 of 2020, and further decline is predicted by experts.  
On the health front, the Mayo Clinic and UCSF have reported long-term impacts of the virus on patients who survive it to include diminished lung capacity, inflamed heart muscles, joint pain, heightened autoimmune diseases, brain damage, psychological trauma, and more.  The combination creates a troubling scenario of added medical expenses in an economic downturn. 
Proper estate planning can provide means for your family, keep your children from going into the public care system, make transfer of assets cheap and efficient, avoid forcing loved ones to make difficult decisions, plan for incapacity, prepare for long-term needs, and reduce tax liabilities.  
COVID-19 reminds us of our vulnerability and mortality.  The best way to make sure our wishes are carried out exactly may be for us to utilize the many tools of estate planning and put it all in writing.  What each individual family needs depends greatly on the unique situation, and it is best to consult an estate planning expert. 
Our office recognizes the extra significance National Estate Planning Awareness Week has this year under the shadow of the Covid-19 pandemic. That is why we offer a free living will to those interested in memorializing their end-of-life care wishes. For more information, please reach out to our office.